20/01 – [News + Trans] JYJ's Park Yoochun and miss A's Suzy in Talks for New Drama by "Rooftop Prince" Director
Source: Soompi
Shared by JYJ3 + Geministar06
JYJ's Park Yoochun is in talks to be the male lead on an upcoming SBS drama, which will be directed by Shin Yoon Sub, the director of "Rooftop Prince."
The drama, entitled "Girl Who Can See Smell," has also sent a casting offer to miss A's Suzy.
Both actors are currently are going through the script and considering the roles.
The drama is about a man who lost his younger sister three years ago in the "Barcode Murder Case" and a warm-hearted woman who was in the same incident but miraculously survived, gaining nothing but amnesia. The author of the upcoming drama, Lee Hee Myung, is the same writer who wrote the dramas "Rooftop Prince" and "King of Ambition" among other works.
The upcoming SBS drama will premiere in April after the drama "Jekyll, Hyde, Me" concludes.
***
Bae Suzy & Park Yoo-Chun offered lead roles in SBS drama THE GIRL WHO SEES SMELLS
Source: Asianwiki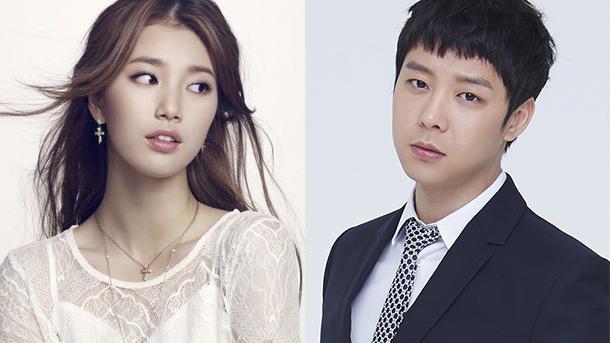 Bae Suzy and Park Yoo-Chun have been offered the lead roles in upcoming SBS drama series THE GIRL WHO SEES SMELLS (literal title). The drama series is based on the webcomic "Naemsaereul Boneun Sonyeo" by Man Chwi. Both performers are positively considering the offers.
Story for the drama series revolves around a man who lost his sister in a murder case 3 years earlier and a girl who survived the murder case and can now see smells.
THE GIRL WHO SEES SMELLS will first air sometime this April in South Korea (takes over the Wednesday & Thursdays 10 PM time slot after the conclusion of "Hyde Jekyll, Me".)
Trans
ohmyjunsu:
– Yoochun is a 'strong candidate' for 'Rooftop Prince' writer Lee Heemyung's new drama '냄새를 보는 소녀' via Daum
– 냄새를 보는 소녀 has been slated for the Wednesday-Thursday slot on SBS after 'Hyde, Jekyll, Me' and will broadcast in March (cr. ohmyjunsu)
– CJES released a cautious statement saying that this is one of the productions that Yoochun is considering.
– 냄새를 보는 소녀 is the story of an apathetic man who lost his younger sister in a 'Barcode Murder' case 3 years ago and a woman who miraculously survived the incident, but lost all her prior memories.
– JYP says Suzy is considering a role (sounds like the female lead according to the article) in 냄새 보는 소녀 but no decisions have been made.
[NEWS] Miss A's Suzy Looking Over Scripts for New SBS Drama via Mwave